The sports and leisure industry is massive, being worth almost £24 billion in the UK, and is responsible for creating almost one million jobs in the UK. 2% of the British workforce belong to this industry. A massive part of this, and a high percentage of these jobs, comes from sales to customers via sports shops. There are a wide variety of sports shops available for every discipline. Following sports that were typically seen as niche, such as MMA or cricket, gaining popularity, demand for all types of sportswear, and equipment has skyrocketed. UK shops carry clothing and equipment supporting teams and clubs and catering for activities from all over the world.
Large Chain Sports Shops
Large chain sports shops are household names. Outlets such as JD Sports and Sports Direct have nationwide outlets. These sports shops tend to stock a wide range of clothing and more generalized equipment. For example, one size fits all mouthguards can be purchased alongside club football shirts and the latest Reebok Club C 85s'. These sports shops tend to have the best price next to buying online, and independent sports shops are rarely able to compete financially. Large sports shops have also gotten directly involved in sports through sponsorship, notably JD Sports who have had sponsorship deals with a number of English football clubs such as Oldham and Blackpool.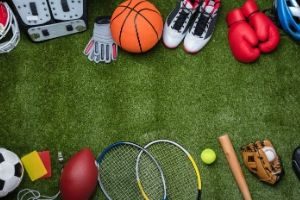 Independent Sports Shops
Although less common these days, small independent sports shops are still around. These are often found to be family businesses that have been in the same family for generations. While they are usually unable to compete with chain sports stores on price, they provide a different, more personalized service. Their Manchester United strips might be more expensive, but the assistant can measure your son or daughter properly for football boots, give advice on the best type for them and order the exact color, size, and style required, for example, Customer service and in-depth knowledge are where independent sports shops excel, and visitors pay the premium on goods for this.
Niche Sports Shops
As the internet has led to an increase in people supporting teams and clubs, and playing sports, from all around the world, sports shops filling all sorts of niches now exist. Football Club superstores are filled will clothing and a wide range of items branded for that club. Certain sports shops also cater for specific sports, for example boxing or snooker. Here, customers can purchase more specialised items, which is particularly good for those who enjoy more niche sports. The customer service in these shops is also high level, with the people running and working in them often sharing a love for the club or sport with their customers.
Sports Shops for Every Need
While internet shopping has taken over shopping in physical stores for many types of purchases, sports shops are still popular. In many cases, this is due to the need for items such as football boots or pointe shoes to be fitted or to discuss appropriate products with an expert, such as if buying products such as boxing gloves. Some shops, particularly those catering to more niche sports can often form part of that community. The service provided, particularly in the more niche stores but also in the large chain sports stores, can never be replicated online, and this is why sports shops, in all their variations, will always be popular.